WordPress Image Storage and Backup: Drop Box, Google Photos, iCloud
Image Storage Strategies and Backup Best Practices
Backup Options and Locations
1. Dropbox
Dropbox is a storage site for all kinds of files, including images. You can create folders and upload your images to them. There is no tagging options for Dropbox currently. We recommend changing the name of your images to search for them easily.
2. Google Photos
Google Photos is an online service that is similar to Google Drive. You can upload your photos, videos, animations, and movies onto Google Photos and store them into albums. You are also capable of adding a single image to multiple albums for organizational purposes (See our How to add a single image to multiple albums section below). Google will auto-tag your images which you can use to find specific images (Also see our How to add your own tags section below). MLML students, staff, and faculty have unlimited storage space with Google (See G Suite for more information).
How to upload images:

Option 1:

Select Upload
Select images and click Open

You have the option to upload your images as high quality at a reduced size or keep your images in its original resolution

Option 2:

Drag and drop your images onto the screen

Option 3:

How to import photos from Google Drive:

Check out this link to learn how to import your photos from Google Drive

How to add your own tags:

Select and open your image
Select the info icon in the upper right corner and add tags through 'Add a description'
You can now search through your images with those tags
Example: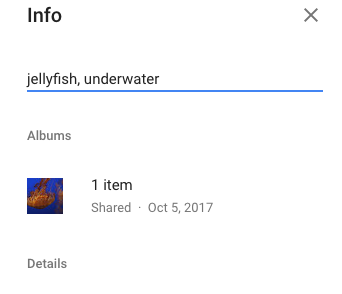 3. iCloud
iCloud is an iOS based cloud storage system that lets you store your photos, videos, documents, notes, contacts, and more. You can sync multiple Apple products together for easy access and automatic backup.
How to sync with Mac:

Click on this link to sync your Mac to iCloud

How to sync with Windows

Click on the following link to sync your Windows to iCloud
4. Other Options
For more options, please see our OneDrive and Flickr KB Posts.
Backing Up Photos On Your Phone
For computer backup, see our Computer Backup & Storage Page.
1. iOS
Syncing your iPhone/iPad to iCloud:

Tap Settings
Tap on the Apple ID banner at the top of the screen

Make sure you're using the same apple ID as your other Apple products

Select iCloud
Tap Photos
Tap iCloud Photo Library to enable it
Enable Upload to My Photo Stream to enable instant photo and video sync over Wi-Fi

Save memory on your iPhone by selecting Optimize Storage or Download and Keep Originals options

Optimize Storage will store your original photos onto iCloud, but keep low resolution versions of your photos on your iPhone

Other options:

You can always download other applications onto your phone to connect it online or with other products
2. Android
Syncing your phone to Google Photos

Make sure to download the Google Photos app, if needed
Open the app and sign into your Google Account
At the top, tap Menu
Select Settings and then Back up & sync
Tap "Back up & sync" on or off

Changing backup settings will affect all apps that use Back up & sync, such as Google Drive
If you have Back up & sync on, deleting the Google Photos app from your device will not turn it off. To turn off Back up & sync, follow the instructions above.

Syncing your phone to Google Drive:

Open the Google Drive app
Tap Menu
Tap Backups
Tap on the backup you want to manage

If you are using multiple Google accounts, you can choose which account you want to upload your images to

Other options:

You can always download other applications onto your phone to connect it online or with other products