WordPress Menu Best Practices and Policies
Summary
Use Mega Menu (under Appearance)
Keep menu item names concise
Keep formatting consistent
WordPress Support: Custom Menus
For more in-depth reading, visit our Third Party Plugin Documentation page and click on Max Mega Menu.
Instructions
Navigate to your menu: Dashboard > Appearance > Menus

Create a new Menu

Select a menu to edit: Mega Menu (Primary Menu)

To add categories use the Pages, Posts, Custom Links, and Categories tabs listed on the left side of screen

If you'd like to directly link to one of the above that you've already created (i.e., a post or page) you can do so using those tabs

If you'd like to create a drop down category use the Custom Links option

For URL insert mlml.calstate.edu - you can delete the URL link once it's added to the menu
Insert desired title of category in Link Text

Add to Menu

Click drop down arrow on newly created category and delete the URL linked

For Drop Down Menus where you'd like to add subcategories with links or links to other pages:

Hover over the main menu category you'd like to create a drop down for 

Select Mega Menu button that appears in blue
For "Sub menu display mode" choose "Mega Menu - Standard Layout"
Select a Widget to add to the panel: "Layout Builder"

2 columns

To edit the Layout Builder in drop down menu:

Select the wrench on the right hand side of Layout Builder widget
Select Open Builder

Add desired number of rows with desired number of columns

The number of columns can be useful to place subcategories directly under the portion of the drop down menu that you want (i.e., more towards the right side of the menu, left side or middle)

Add a SiteOrigin Editor widget to make a list of Pages that you'd like to link to
Visual Instructions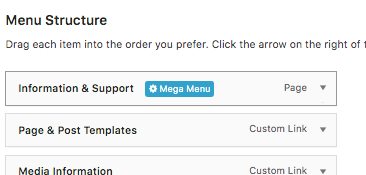 Use Layout Builder. Click the Wrench icon on the right to edit

Open Builder: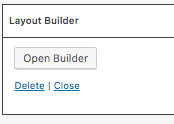 Here you have the standard Page Builder interface where you can add rows, columns, and widgets to create menu items.